Introducing Sunwoda's SUPER Series: A Game-Changer in C&I Energy Storage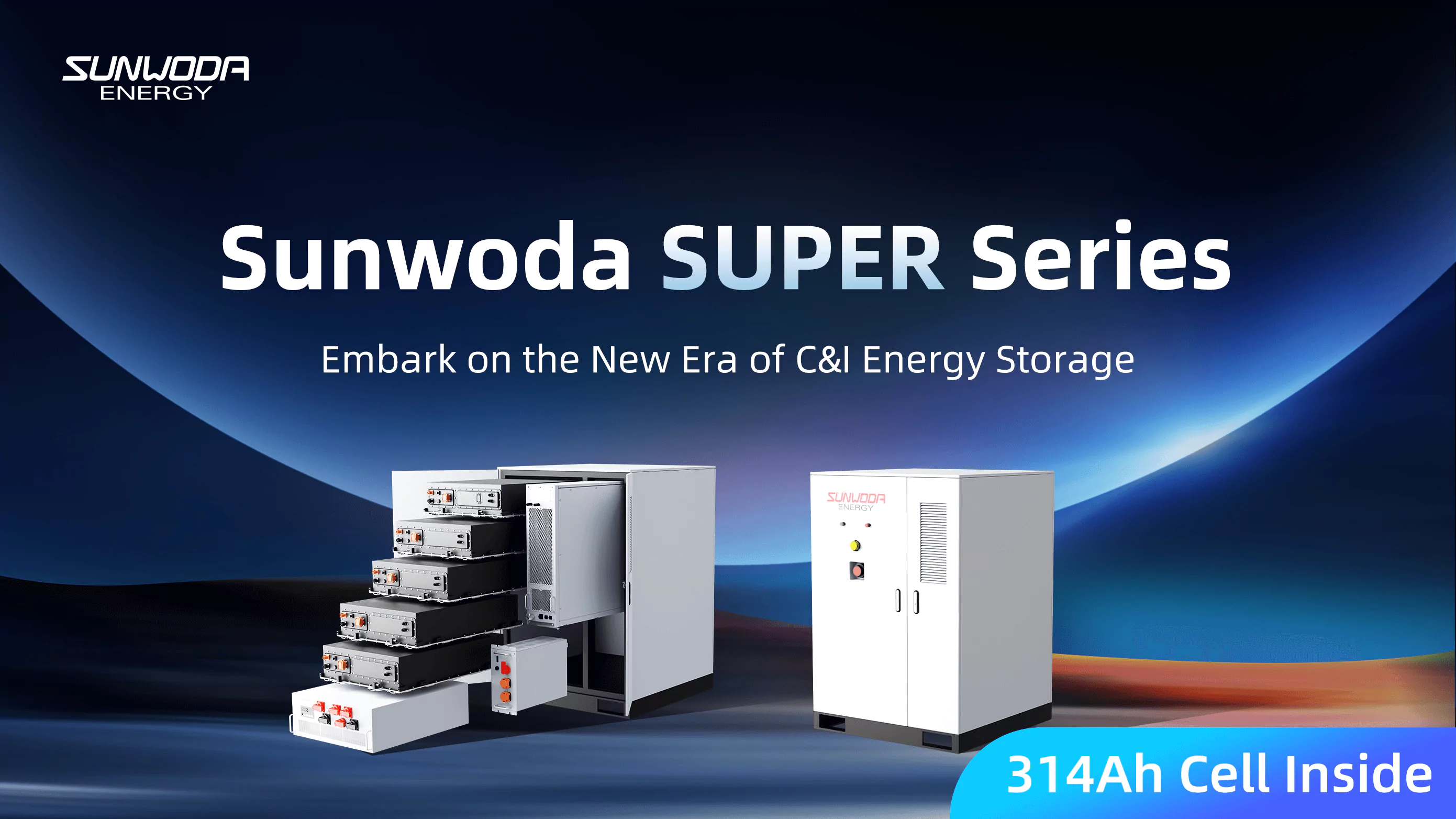 On October 29th, Sunwoda Energy, a globally renowned provider of energy storage solutions, unveiled its latest innovation in the realm of Commercial and Industrial (C&I) energy storage solutions, introducing the groundbreaking SUPER Series. This represents a pioneering milestone as it marks the first-ever integration of 314Ah high-capacity cells into a C&I energy storage system within China.
The SUPER Series is a game-changer in C&I energy storage technology, driven by the utilization of 314Ah cells boasting an exceptional cycle life of 12,000 cycles. This system stands out with its impressive attributes, including a more than 12% increase in energy density and a remarkable reduction in electricity costs exceeding 15%. Sunwoda's adoption of high-capacity cells for C&I applications sets an industry precedent, fostering innovation and propelling C&I energy storage into a remarkable era of technological transformation.
SUPER Long-life & High-capacity Cells for Maximizing Returns
The next-generation Super C&I energy storage system harnesses 314Ah LFP energy storage cells. As the first product in China to incorporate these high-capacity cells into C&I energy storage, Sunwoda has achieved a 12% enhancement in energy density and an impressive cycle life of up to 12,000 cycles. In contrast to the conventional industrial and commercial energy storage products with a typical lifespan of 9 years, Sunwoda's new system is designed to endure for 15 years, delivering substantial economic benefits.
SUPER Integration Technology for Elevating Reliability
The SUPER Series features a comprehensive five-layer safety design, encompassing double-insulated safety measures for cells, intelligent monitoring and detection, PACK-level fire prevention and directional explosion suppression, subsystem restraint, and system safety design. By integrating safety features throughout individual components and the entire system, Sunwoda ensures the battery system's safety, stability, and reliable operation, effectively averting loss of control, fires, and explosions.
SUPER Intelligent Platform for Optimization for Returns and Safety
Sunwoda has revolutionized C&I energy services by introducing a Virtual Power Plant (VPP) and a Digital Twin Platform. The VPP platform empowers C&I energy storage systems to engage in demand response, power ancillary services, and spot electricity trading, offering customers additional avenues for profit growth beyond peak shaving and valley filling. Furthermore, the Digital Twin Platform continually monitors and evaluates battery cell conditions throughout their lifecycle, providing early warnings, reducing failure risks, enhancing safety performance, and extending the operational lifespan of energy storage stations.
SUPER Comprehensive Services from Technology to Solutions
With independent capabilities for research, development, and production covering cells, Battery Management Systems (BMS), PACK, Energy Management Systems (EMS), and the entire system, Sunwoda delivers comprehensive technical support. This encompasses energy planning, distributed generation technology, efficient data center cooling technology, and supercharging technology. In terms of solutions, Sunwoda leverages its expertise in smart energy project implementation to provide zero-carbon industrial park solutions based on Source-Grid-Load-Storage and zero-carbon smart travel solutions based on Photovoltaic-Storage-Charging-Replacing.
The introduction of Sunwoda's SUPER Series signifies the dawn of a new era in the industrial and commercial energy storage industry. Presently, Sunwoda has amassed a portfolio of hundreds of projects on the user side, conducting demonstration applications across diverse markets, including China, Europe, North Africa, and Japan. These projects have played a pivotal role in cost reduction, efficiency enhancement, and the promotion of the energy transition for Sunwoda's valued customers.