Discover CALB's Innovative Energy Storage Offerings at All-Energy 2023
On October 25th and 26th, All-Energy, a globally renowned energy storage exhibition, was held in Australia. Following the debut of the 314Ah energy storage product in the United States at the Re+ exhibition, CALB unveiled core products and solutions for various energy storage applications such as utility-scale, commercial, residential, and marine applications in Melbourne.
After gaining significant attention from industry users, experts, and the media at the Re+ exhibition in the United States, CALB continued to introduce its products to the Australian market.
For utility-scale and commercial energy storage applications, CALB upgraded the 280Ah battery cells to 314Ah energy-dedicated lithium iron phosphate batteries while maintaining the same size specifications. They successfully achieved the world's first mass production and delivery. The company is also actively developing a 20-foot liquid-cooled 5.016MWh product for utility-scale energy storage systems. Compared to the previous generation product, this system offers a 34% increase in volume energy density and employs intelligent configuration adjustments and advanced thermal management strategies, resulting in a 20% reduction in self-consumption. Through efficient thermal management technology and the new generation 314Ah battery cells, the system's available capacity increases by 5%, and its lifespan extends to over 12,000 cycles, reducing the cost per kilowatt-hour by more than 15%.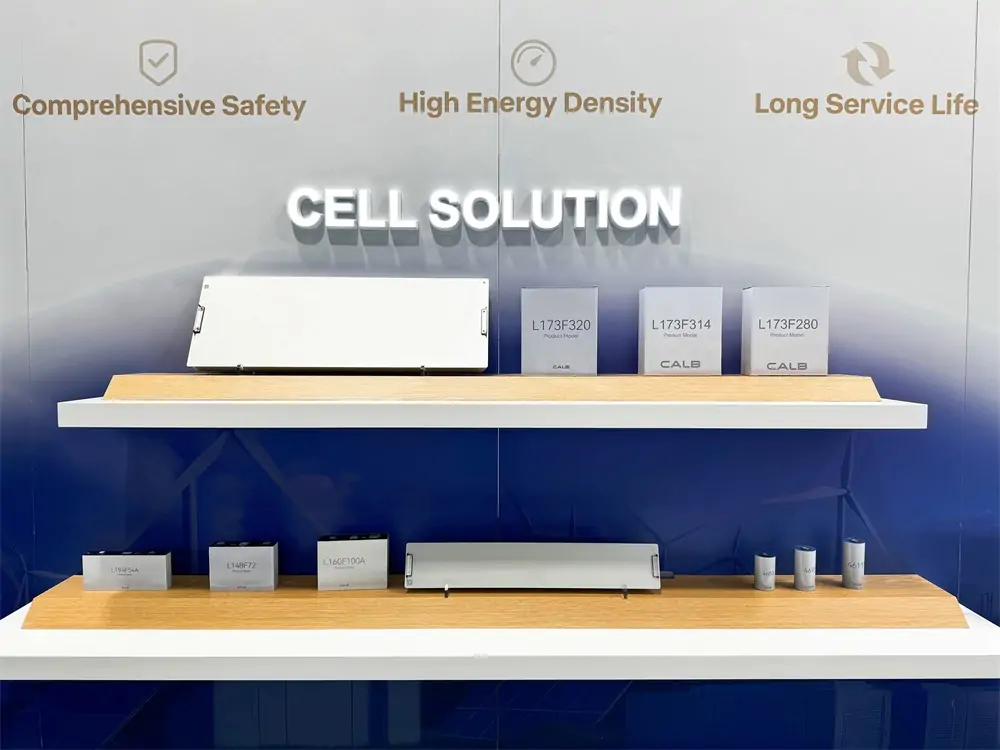 In addition to this, CALB's commercial and residential energy storage systems and solutions garnered significant attention at the Australian exhibition.
For commercial energy storage solutions, CALB adopts a single cabinet approach to avoid circulation issues. The systems integrate CALB's high-stability and customizable lithium iron phosphate battery cells, offering a machine lifespan of up to 15 years, with multiple levels of protection, including zone-based safety isolation and active safety warning units. The single cabinet can integrate PCS and EMS, offering liquid cooling with a capacity of up to 373kWh and air cooling with a capacity of up to 215kWh, with low losses and a system charging and discharging efficiency of 95%. It supports peak shaving, frequency regulation, harmonic control, and high-performance applications, such as combined wind and solar energy storage, and is suitable for a wide range of applications, including highway service areas, charging stations, large supermarkets, government buildings, and industrial parks.
As a solution for peak shaving and valley filling in households, CALB offers long-life products with capacities of 100Ah, 72Ah, 54Ah, and more. The energy storage systems are fully modular and support capacity expansion. Customized solutions with a capacity of 5kWh can be provided according to customer needs to reduce electricity costs while matching the best procurement costs for customers. The systems feature a high-security fire suppression system, environmental safety, and control of heat dissipation and fire suppression, ensuring comprehensive safety for users. The user interface includes a digital screen, and the system is connected to a user-friendly app interface for real-time monitoring of battery operation status, SOC, and alerts. The overall solution comes with a 10-year warranty, providing peace of mind for users.
CALB, through its comprehensive energy storage product portfolio and ongoing technological innovation, is committed to making the greatest contribution to creating a harmonious, sustainable energy ecosystem and a better future for humanity.