CATL's Sustainability Achievements: UNGC Membership & S&P Global Recognition
CATL has recently taken a significant step by officially becoming a part of the United Nations Global Compact (UNGC). Renowned as a global leader in pioneering new energy technologies, CATL has consistently upheld its commitment to sustainable development principles. Leveraging its technological prowess, innovative business models, environmentally conscious manufacturing practices, and comprehensive value-chain operations, CATL remains dedicated to driving worldwide energy transition and fostering green development.
The United Nations Global Compact (UNGC), founded in 2000, stands as the largest entity promoting corporate sustainability globally, and it was the pioneer in advocating the concept of Environmental, Social, and Governance (ESG). CATL's inclusion within UNGC reflects the international acknowledgment of its sustainable business practices across realms like corporate governance, environmental conservation, and talent cultivation. This momentous stride also signifies CATL's strategic move towards bolstering its international influence within the sustainability domain.
Simultaneously, CATL has earned a distinguished place in the inaugural edition of the 2023 Sustainability Yearbook (China Edition), published by the prestigious rating agency Standard & Poor¡¯s Global (S&P Global). This recognition comes as a tribute to CATL's remarkable accomplishments in the realm of sustainability. The Sustainability Yearbook spotlights the top 15% of companies in various sectors based on S&P Global's ESG scores, offering varying degrees of acknowledgment.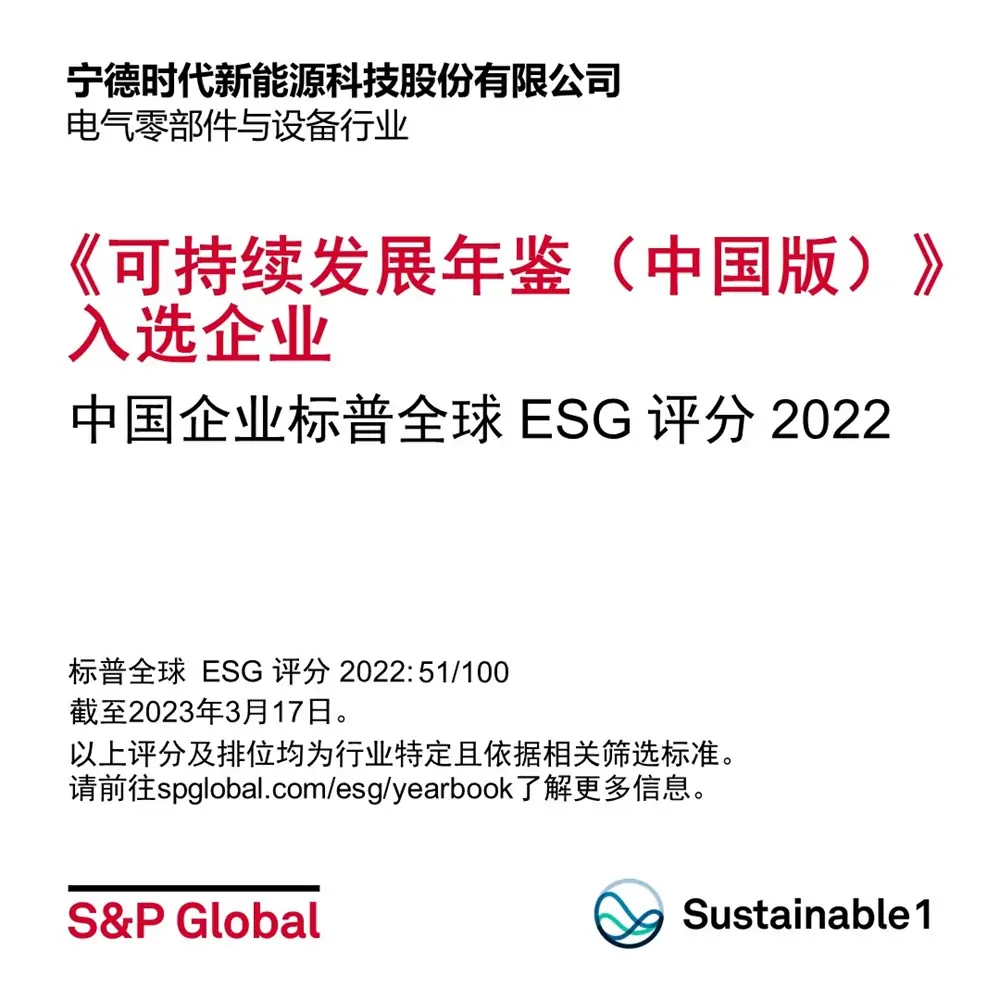 With a commendable Corporate Sustainability Assessment (CSA) score of 51 points achieved in 2022, positioning it within the top 6% globally, CATL has emerged as a standout among 1,590 Chinese enterprises. This distinction secured CATL's place among the exclusive cohort of 88 companies featured in the Yearbook.
In the coming years, CATL remains resolute in its pursuit of sustainability principles. The company commits to steadfastly embracing UNGC's values and frameworks, fulfilling its societal obligations, fostering conscientious corporate governance, and ethical business conduct. Collaborative engagements across the value chain will be sought to advance wider sustainable developmental objectives, all underpinned by CATL's unwavering dedication to sustainability.