Revolutionary 314Ah Energy Storage Solution at RE+ 2023
On September 12th to 14th, local time, the global top-level energy solutions exhibition RE+ 2023 was grandly held in Las Vegas, USA. CALB showcased its brand-new energy storage battery cell products and system solutions, with a focus on the world's first mass-produced and delivered 314Ah high-specific-energy, long-life energy storage battery cells and matching solutions, receiving widespread attention from industry users, experts, and the media.
The upgraded 314Ah battery cells employ breakthrough lithium supplementation technology, significantly increasing their cycle life to 15,000 cycles, providing customers with a more cost-effective energy storage solution. At the same time, this supports the rapid global development of CALB's energy storage business.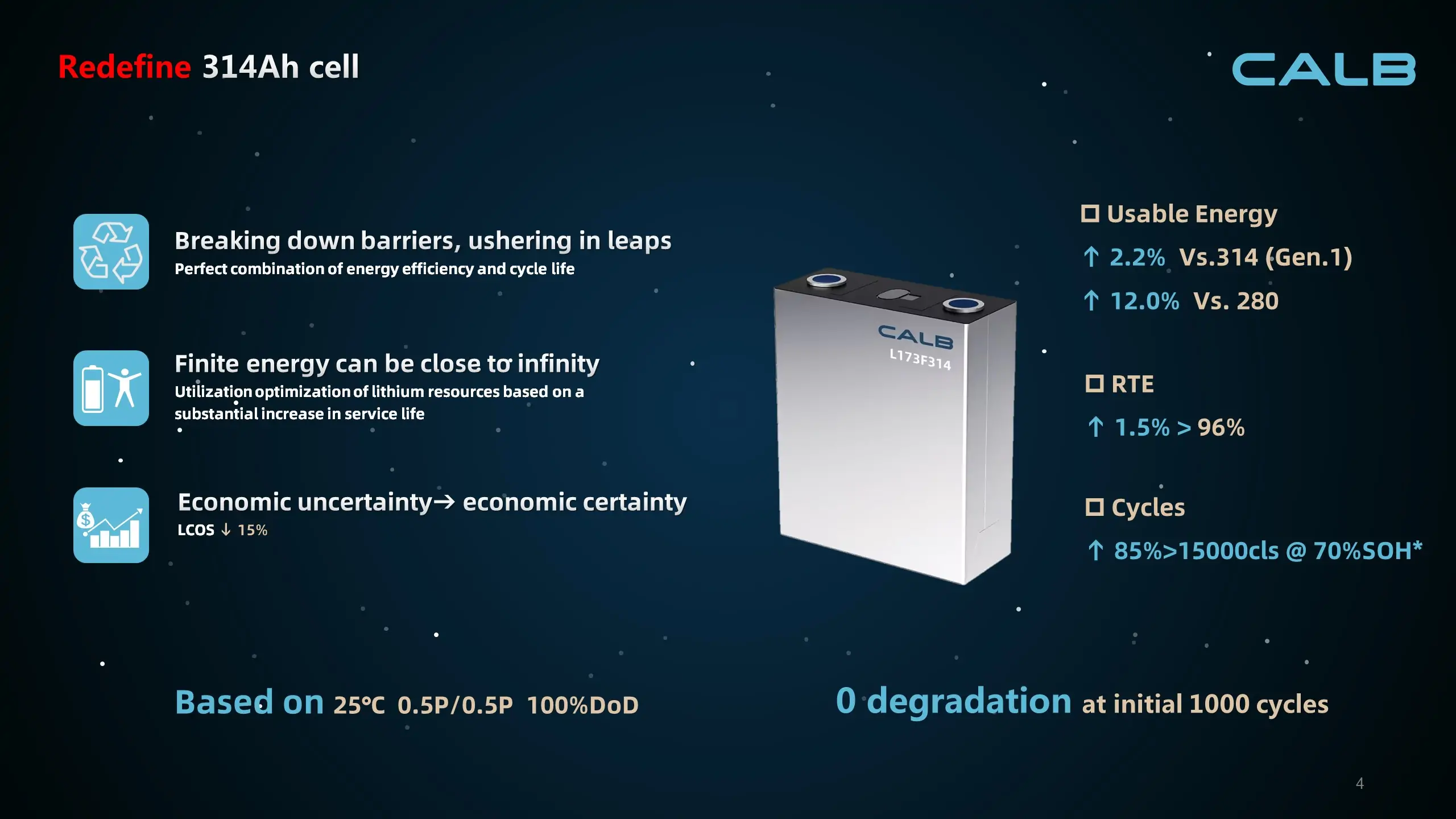 Through meticulous optimization, the new 314Ah battery cells offer a 12% increase in available capacity over the previous generation 280Ah products, with an energy conversion efficiency of up to 96%. The advanced material system integrated into the cells effectively improves output efficiency and greatly reduces the loss of active lithium during charging and discharging, achieving zero capacity degradation within the first 1,000 cycles. These battery cells possess excellent scalability and can be flexibly customized at the system level to meet the unique energy requirements of various commercial applications.
In response to numerous media interviews, the head of CALB's international business division stated, "The 314Ah battery cells mass-produced and delivered by the company made their debut in North America at RE+, marking an important step for CALB in the field of electrochemical energy storage. We will play a greater role in global carbon reduction and carbon neutrality processes. With leading research and development capabilities and a well-established supply chain, CALB is prepared to provide more comprehensive energy storage solutions for the sustainable development needs of global customers.