SVOLT Energy Unveils Revolutionary "Dragon Armor" Battery on 3rd Battery Day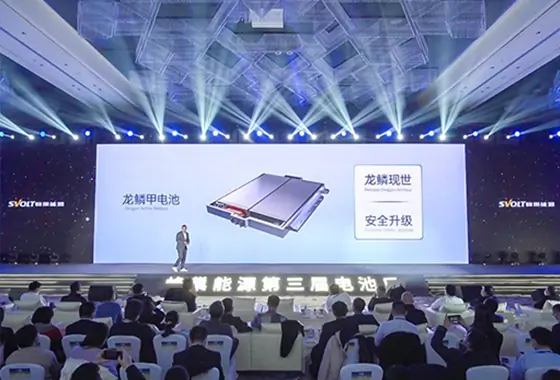 On December 15th (Beijing Time), SVOLT Energy Technology, a leading Chinese energy company, introduced the cutting-edge "Dragon Armor" CTP products during the 3rd Battery Day. This revolutionary battery employs thermal-electric separation technology, elevating automotive safety to unprecedented heights and achieving an industry-record range of 800 km for new energy vehicles in the LFP application.
One of the major advantages of the Dragon Armor battery is its emphasis on safety. SVOLT's innovative design, integrating short blade cells with bottom vents and thermal-electric separation, mitigates the risk of thermal runaway and high voltage arc or ignition failures. By effectively managing space and improving safety at both individual and system levels, SVOLT ensures a robust and secure battery solution.
The LFP cell's higher energy density and impressive volumetric grouping efficiency of up to 76% contribute significantly to the extended driving range. Additionally, the Dragon Armor battery offers multiple performance benefits, such as supporting 4C fast charging and expandable CTC, making it compatible with various chemistries and suitable for A00 C Class vehicles.
The global pre-order for Dragon Armor batteries will commence on December 15th, with installations slated for 2023 vehicle models. This advancement will effectively address customer concerns about safety and driving range, paving the way for a more sustainable future in the automotive industry.
As Chinese new energy vehicle brands and battery suppliers expand globally, SVOLT has been recognized as a Top 10 player in the Global Automotive Battery Installed Capacity List for the first half of 2022. Their commitment to innovation was showcased during the annual Battery Day, solidifying their reputation as reliable technological pioneers.
Having already received orders from renowned OEMs, including Stellantis, SVOLT is making strides in establishing a global footprint. Their forthcoming cell plant in Lauchhammer, Brandenburg, Germany, demonstrates their dedication to meeting the rising demand for sustainable energy solutions, solidifying their position as a trailblazer in the industry.