CATL and Arun Plus Collaborate to Boost Thailand's EV Battery Production Potential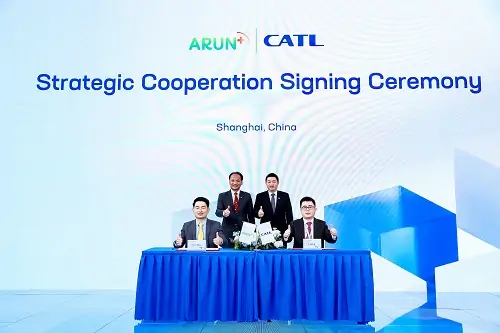 Contemporary Amperex Technology Co., Limited (CATL) and Arun Plus Company Limited (Arun Plus) have recently forged an agreement in Thailand for CTP (cell-to-pack) cooperation, aiming to cater to local electric vehicle (EV) manufacturers and bolster Thailand's potential as the battery production hub of the ASEAN region.
Under the agreement, CATL will provide Arun Plus with a CTP production line and collaborate with them to share knowledge and technologies related to CTP battery pack manufacturing.
Arun Plus, a wholly owned subsidiary of PTT Public Company Limited (PTT), Thailand's national oil company with a well-established infrastructure nationwide, has taken steps to meet the growing demand for EVs in the region by establishing a subsidiary for EV manufacturing in November 2022.
Driven by a shared vision of promoting a greener future through innovative technologies, this partnership will empower Arun Plus in expanding its EV production capabilities, taking a significant stride towards developing an EV battery ecosystem in Thailand and the wider ASEAN region.
This collaboration also represents a significant milestone in CATL's global presence as it actively pursues diverse forms of cooperation in regional markets, further accelerating the adoption of e-mobility and facilitating the global energy transition.