EVE C40 40135 3.2V 20Ah Cylindrical LiFePO4 battery Cell
Features
High energy density: up to 285wh/kg

High rate discharge: Capable of maximum 50A continuous discharge, and 100A at pulse discharge

Fast charging: Up to 8A charging

Long cycle life at room temperature: Meet the requirements of long operating life

High-safety: Pass CB, UL1642, UN38.3

Excellent high temperature and low temperature cycle: between 0~55¡æ
Specifications
| | |
| --- | --- |
| Items | Parameters |
| Nominal Capacity | 20000mAh |
| Nominal Voltage | 3.2V |
| AC-IR | ¡Ü3m¦¸ |
| DC-IR | ¡Ü8m¦¸ |
| End-of-charge Voltage | 3.65V |
| End-of-charge Current | 1000mA |
| End-of-discharge Voltage | 2.5V |
| Storage Humidity | ¡Ü70%RH |
| Weight | 356¡À10g |
| Standard Charging Current | 10000mA |
| Standard Discharge Current | 10000mA |
| Max Continuous Discharge Current | 60000mA |
| Model Name | C40-40135 |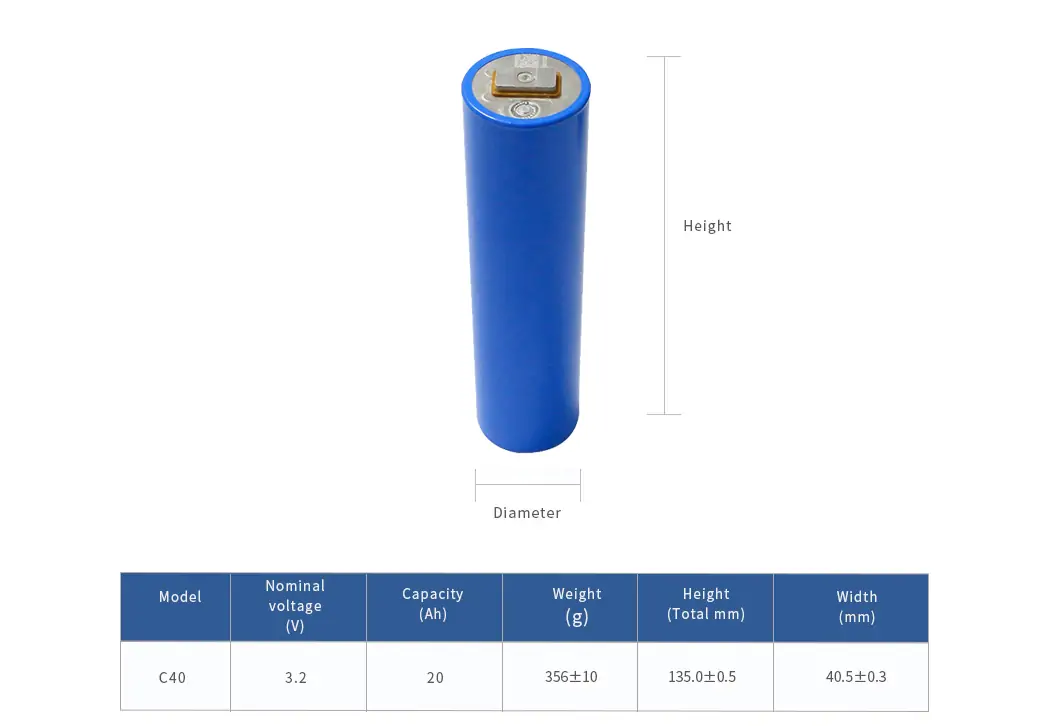 Applications
Applications: Power tools, gardening tools, electric two-wheelers, vacuum cleaner, sweeping robot, BESS, etc.
Lithium batteries are products of high profession and technology. Any application and replace of Lithium batteries shall be conducted by professional technologist.
Before using,please learn the corresponding Technique Specification carefully. While using, the following regulations must be observed:
1) Do not remove the battery from its original packaging before use.
2) Do not place the batteries piecemeal in case of accidental short circuiting.
3) Do not heat the battery above 100¡ãC or incinerate it.
5) Do not weld directly on the surface of the battery, but use a battery with pre-installed weld pins or leads.
6) Do not mix new batteries with used ones, or with batteries of different origins.
7) Any disassembly or dissection of batteries is strictly prohibited.
8) It is strictly forbidden to short-circuit or reverse connection between the positive and negative terminals.