Winston TSWB48100-5200 LB 48V 100Ah Household BESS Battery Module
Thunder Sky Winston Household BESS is a safe and easy-to-use energy storage system made of advanced battery pack technology with water-based lithium battery as the basic unit. The BESS has the functions of voltage collection, current collection, temperature collection, SOC, SOH£¬SOP estimation, information display, and multiple system protection, etc. It can be combined into BESS of different voltages and capacities, which are widely used in home energy storage, wall-mounted energy storage, RV power system, PV roof, industrial energy storage, energy storage power station and other application scenarios.
Product features

Safe & Durable
Independently R&D with global core patents energy storage type high-capacity water-based lithium Yttrium battery, more than 7000 times cycle life and the service life

BMS has highly reliable redundant UPS unit, which will never be

powered off. The three-level early warning mechanism and perfect

protection functions (scp, ocp, ovp, uvp, otp, etc.) realize the whole

process monitoring and management

Power grid friendly, meets the design specifications of smart grid, is

efficient and safe, the battery pack is completely isolated from the

power grid, and the output belt is isolated, safe and reliable.
Smart & Reliable
Equipped with Smart BMS, it can monitor battery voltage, current, temperature, SOC, SOH and other information in real time, and

has intelligent thermal management function to realize the safe

and stable operation of energy storage battery system..

Standard battery case design, unified external interface, equipped with communication wiring row, can be quickly configured for use.

City power priority, inverter priority Settable. Four time periods

(peak, flat, valley and peak time periods) tariff setting, flexible

calculation of customer profit.
48V BESS Parameters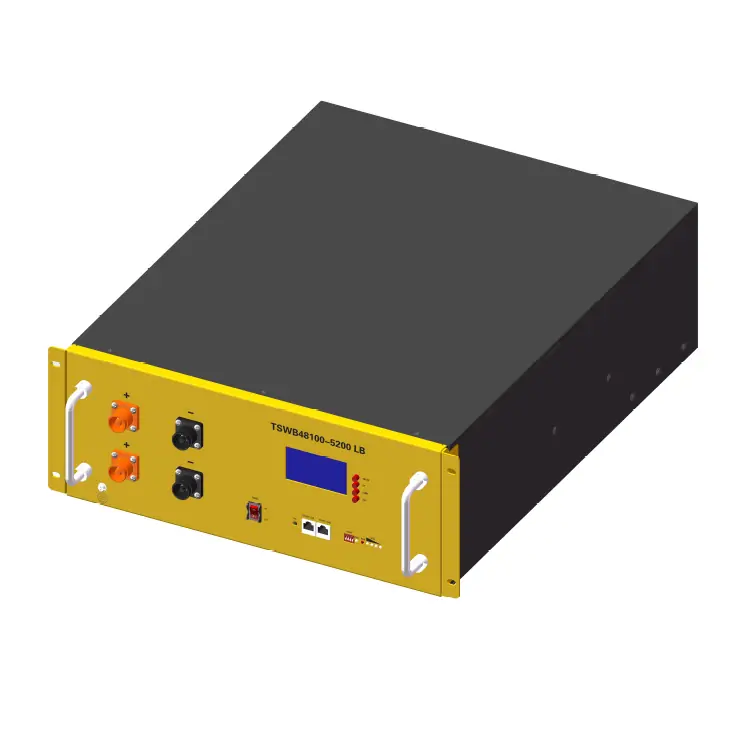 Item

Parameters

Rate Voltage

52V

Rated Capacity

100Ah£¨50-100Ah Optional£©

Rated Energy

5200Wh

Battery Type

LYP

group way

1P16S

Max Charging Current

50A

Max Discharging Current

100A

Work Voltage Range

45-60V

Operating temperature

Charging: 0¡æ~55¡æ,

Discharging: £­20¡æ~55¡æ

Communication Interface

CAN BUS¡¢RS485

Size

L482 * D570 * H177£¨mm£©

Weight

65kg
Parameters of Cabinet Type Household BESS
Battery Pack Parameters

Voltage range

45V¡«60V

Expandable energy

5.2Kwh~78Kwh (Optional)

Battery type

LYP£¨Water-based lithium Yttrium battery£©

Battery pack charge/discharge C-rate

¡Ü1C

Cycle Life

7000 Times @ 80%DOD

On Grid output characteristics

Rated output Power

3Kw~40Kw

Rated grid-connected voltage

220Vac¡¢230Vac¡¢240Vac

Rated grid-connected voltage

50Hz/60Hz

Power fact

£¾0.99

Maximum efficiency

97.7%

Backup Power bank characteristics

Rated output voltage

3Kw~40Kw

Rated output voltage

220Vac¡¢230Vac¡¢240Vac

Rated output frequency

50hz/60hz (settable)

Overload capacity

<10ms

Photovoltaic system parameters

Rated output voltage

3000~40000W

Maximum output current

60V

Rated output frequency

48~60V

Other Parameters

Heat dissipation method

Air-cooled cooling

Operating temperature range

-25¡æ¡«60¡æ

BESS Safety Standard

IEC62109-1, IEC62109-2, AS62040-1-1

Communication Interface

CAN2.0B, RS485

System Noise

¡Ü25dB @1m

Relative humidity

0~95% (non-condensing)

Maximum working altitude

¡Ü4000m

Protection grade of BESS

NEMA 3R/IP65

Certification

CE¡¢UL¡¢IEC