Revolutionizing Lithium Battery Technology: Cham Battery's Milestones
Amidst the wave of energy transition, technological innovation stands as the pivotal driving force. Within the lithium battery industry chain, the persistent demand for power and energy storage batteries remains robust. As per the High-tech Lithium Battery Industry Research Institute (GGII), it's projected that by 2030, the shipment volume of power batteries will surge fivefold, while energy storage batteries will witness an eightfold increase, totaling a 3.5TWh shipment volume of lithium batteries. This burgeoning demand propels transformations in electrochemical materials, manufacturing, and structural systems within the lithium battery industry.
Regarding technological advancements, the 46-series large cylindrical battery technology and sodium-ion battery technology have emerged as crucial pathways for the lithium battery industry's evolution.
At the forefront of this technological renaissance, on September 20, Cham Battery hosted a groundbreaking product launch event titled "Chemical Creation °§ Imitating Nature" in Mianyang, Sichuan. During this event, Cham Battery unveiled a series of innovative products including sodium-ion batteries, 46-series large cylindrical batteries, and the pioneering integrated bamboo and rattan battery CTP1.0.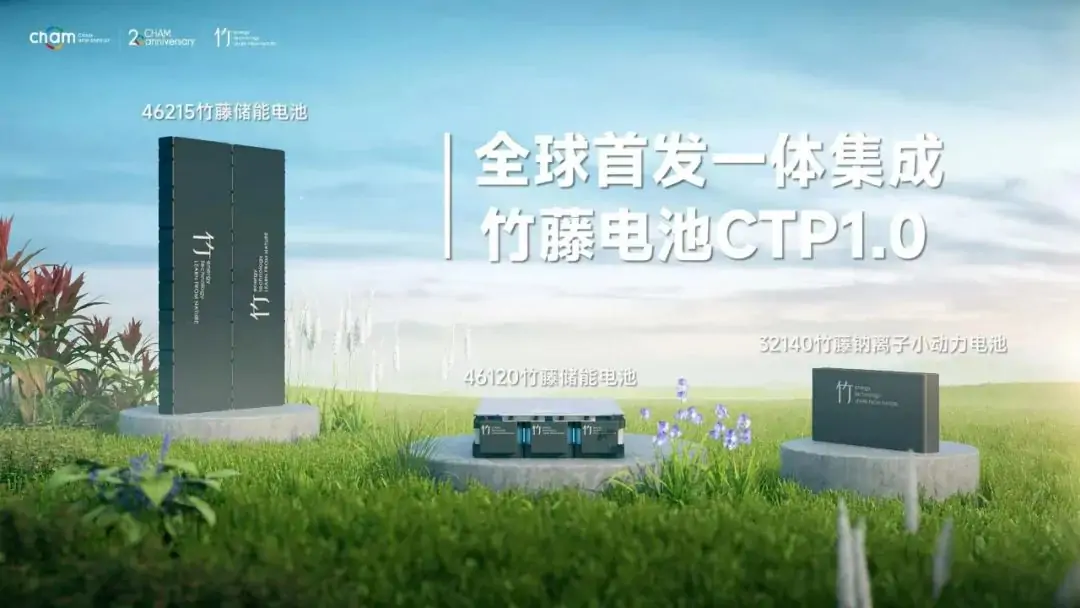 With 20 years of extensive industry involvement, Cham Battery holds a core technology reservoir spanning multiple material routes and manufacturing processes for 21700, 32140, and 4680. In 2022, the Cham Battery project settled in Mianyang, Sichuan, with a total investment of 12 billion yuan. The project incorporates cutting-edge fully automatic battery production lines, along with PACK production on the lithium battery line and 10 digital lithium battery production lines.
This launch event not only positioned Cham Battery at the vanguard of battery technology but also underscored their commitment to pioneering advancements in new technological domains. The bamboo and rattan battery series, introduced during this event, embodies Cham Battery's cumulative research and development expertise, signaling progress in industry focus, technological prowess, product diversification, and industrial chain ecosystem. These initiatives aim to foster the industrialization and scalable development of the lithium battery industry.
Ultra-Fast Charging Sodium-Ion Battery
As a crucial supplement to the lithium battery material system, sodium-ion batteries hold substantial market potential, especially in high-latitude regions, owing to their cost-effectiveness and exceptional low-temperature performance.
Forecasts indicate that domestic sodium-ion battery shipments may reach 20.5GWh by 2025 and soar to 347GWh by 2030. Anticipated applications for sodium-ion batteries encompass two-wheelers, low-speed four-wheelers, household energy storage, and communication energy storage.
Zhao Youman, CTO of Cham Battery, highlighted that sodium-ion batteries, despite being in their initial commercialization phase, harbor immense potential across material systems, structural integrity, energy density, and cycle life.
Cham Battery's 32140 bamboo and rattan sodium-ion small power battery exhibit remarkable wide temperature resistance ranging from -40°"C to 60°"C. Performance-wise, these batteries can cycle 2000 weeks with an 80% capacity retention rate.
Structurally, the 32140 bamboo and rattan sodium-ion small power battery implement an FPC design for the collection line, offering lightweight, enhanced safety, reliability, and standardization, thereby reducing system costs by over 15%.
Furthermore, notable advancements in fast charging technology address historic concerns with sodium-ion batteries. Cham Battery pioneers ultra-fast charging technology for sodium-ion batteries, marking a significant industry milestone with its 31240 sodium-ion battery as the industry's inaugural ultra-fast charging variant.
Advancements in 46-Series Large Cylindrical Battery Technology
The 46-series large cylindrical battery continues its breakthrough trajectory, boasting enhanced energy density and safety, capturing global industry attention.
Through innovative structural and material system enhancements, the 46-series large cylindrical battery achieves heightened manufacturing efficiency. Leveraging full tab and dry battery technology, this battery type balances superior performance with reduced costs.
The industrial wave of the 46-series large cylindrical battery spans from material companies to terminal car manufacturers, domestically and internationally. This surge aligns with the quality and performance upgrades in the lithium battery industry's new competitive phase.
Zhao Youman emphasized that the 46-series large cylindrical battery technology, as a next-generation battery tech, tackles multifaceted challenges and intricate processes. Cham Battery, deeply entrenched in the lithium battery industry, has made significant strides in overcoming high-tech barriers like large cylindrical current collectors and tab welding.
Cham Battery's 46120 large cylindrical bamboo and rattan energy storage battery employs a minimalist modular design, integrating structural components to reduce module material costs by 15% compared to traditional square batteries.
Implementing a CCS integrated busbar design and tenon-and-mortise structure assembly, the 46120 bamboo and rattan energy storage battery slashes assembly costs by 13.5%. With vehicle-level thermal runaway prevention design, the battery showcases reduced thermal conductivity and superior insulation at high temperatures. Supported by an intelligent thermal management system, the temperature differential of the 46120 bamboo and rattan energy storage battery module is contained within 4°"C.
Moreover, Cham Battery's 46215 bamboo and rattan energy storage battery boasts a single-cell energy density of 180wh/kg, achieving a 75% volume utilization rate and enduring 10000 cycles. Compared to square cells, this battery variant elevates voltage ratio by 50%-87.5%, enhancing inverter conversion efficiency and platform efficiency by nearly 1%.