BAKCBBL150 3.2V 150Ah Prismatic Lithium LFP LiFePO4 cell
Applications
DIY Lifepo4 battery Pack, Solar system, Energy storage (ESS), Electric vehicles, Golf carts, RV
Battery Features
High Energy Density
Long Cycle Life
Good performance at high/low temperature
High-rate continuous discharge
Automatic production, good consistency
Environment-Friendly
Battery Dimensions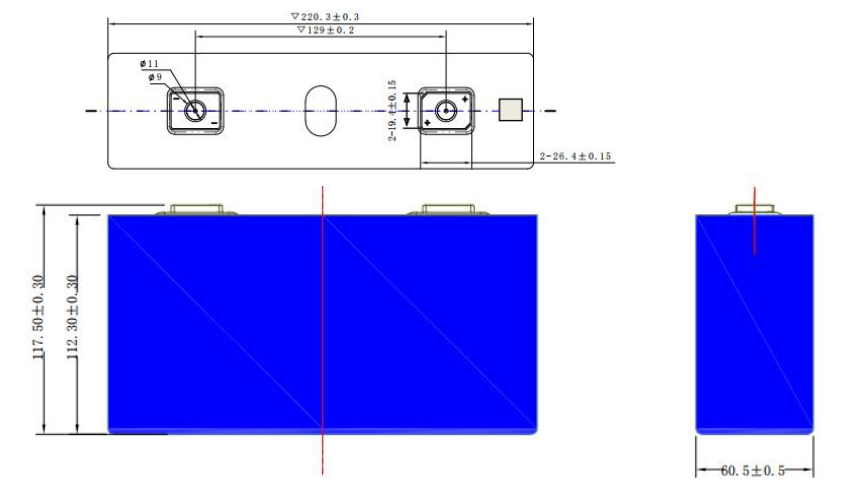 Parameters
Item

Parameter

Minimal capacity

150Ah

Typical capacity

152Ah

Nominal voltage

3.2V (0.5C)

Charge ending voltage

3.65V

Discharge ending voltage

2.5V (>0¡ãC) 2.0V (¡Ü0¡ãC)

Nominal energy

480Wh

Max. charge limited current at room temperature (not for cycle)

225A (Continuous)

400A (50%SOC, 10s)

Max. discharge limited current at room temperature (not for cycle)

300A (Continuous)

400A (50%SOC, 10s)

Charge temperature range

0~+55¡ãC

Discharge temperature range

-20~+55¡ãC

Internal resistance

¡Ü0.6m¦¸

(AC Impedance, 1000 Hz)

typical: 0.3m¦¸

Weight

2.98¡À0.10kg
Warning and cautions in handling the lithium-ion cell
Don¡¯t immerse the battery in water and seawater. Please put it in cool and dry environment if no using.

Don¡¯t use and leave the cell near a heat source such as fire or heater.

Do not use or leave the cell under the blazing sun (or in heated car by sunshine).

Being charged, using the battery charger specifically for that purpose.

Don¡¯t reverse the positive and negative terminals.

Do not disassemble or modify the cell.

Do not use the cell with conspicuous damage or deformation.

Don¡¯t connect the cell to an electrical outlet directly.

Don¡¯t discard the cell in fire or heater

Do not short circuit, over-charge or over-discharge the cell.

Battery pack designing and packing Prohibition injury batteries.