24V/25.6V 12Ah Lithium LiFePO4 Battery Pack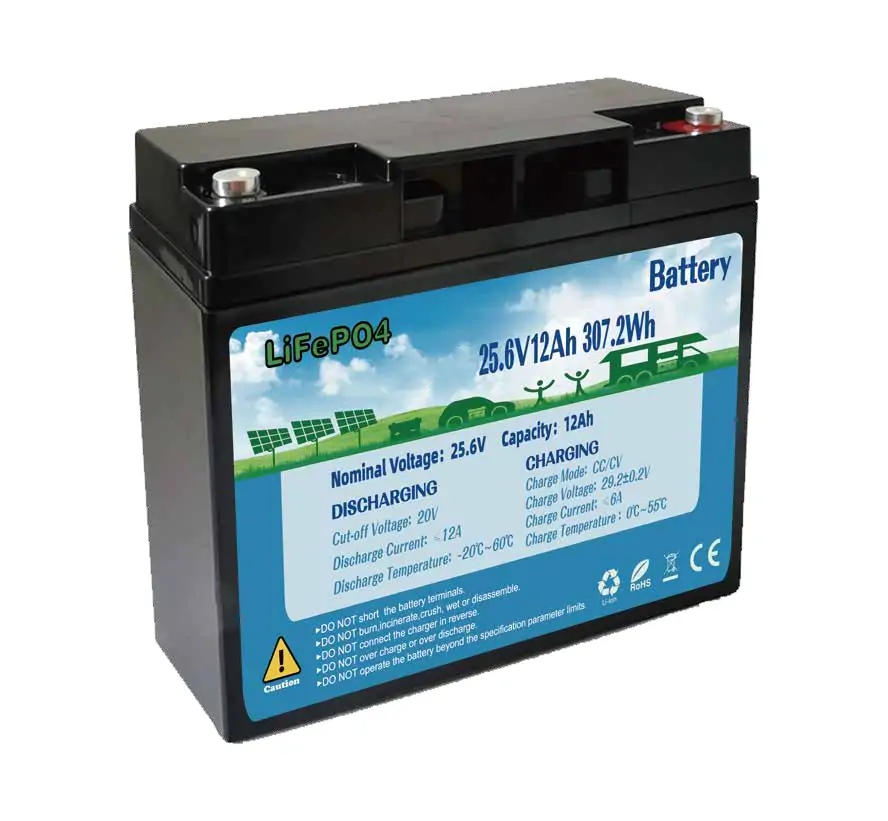 Features
Longer Life
More than 2000 cycles at Lab test condition, longer serving time ranges helps vendors to extend the product serving life and help final users to reduce the battery replacement costs.
Lighter Weight
It is equivalent to 40% of the weight of lead-acid battery, which is convenient for handling, taking and placing.
Super Safety
The olivine structure of lithium iron phosphate material is eliminated fundamentally the risk of explosion or combustion due to high temperature impact, overcharged or short circuit situation. Besides, BMS protection ensures safe and efficient operation.
Parameters
| | |
| --- | --- |
| Item | Parameter |
| Nominal Voltage | 25.6V |
| Nominal Capacity | 12Ah |
| Min Capacity | 11.5Ah |
| Energy | 307.2Wh |
| Internal Resistance (AC) | ¡Ü50m¦¸ |
| Self-discharge Rate | ¡Ü3%/Month |
| Cycle Life (100%DOD) | ¡Ý2,000 cycles |
| Charge Voltage | 29.2¡À0.2V |
| Charge Mode | CC/CV |
| Charge Current | 3A |
| Max. Charge Current | 6A |
| Continues Discharge Current | 12A |
| Max. Pulse Current | 30A(¡Ü50mS) |
| Discharge Cut-off Voltage | 20V |
| Charge Temperature | 0¡æ-55¡æ |
| Discharge Temperature | -20¡æ-60¡æ |
| Storage Temperature | -20¡æ-45¡æ |
| IP Class | IP65 |
| Cell | 2670-4Ah-3.2V |
| Configuration | 8S 3P |
| Dimension(L*W*H) | 181*77*170mm |
| Material of case | ABS plastic |
| Weight | About 3.0Kg |
| Color | Black or other |
| Terminal | M5 |